7 Best Customer Service Software to Help Your Business Grow (2022)
The article explains what customer service software is and why businesses use it and lists the seven best customer service software programs.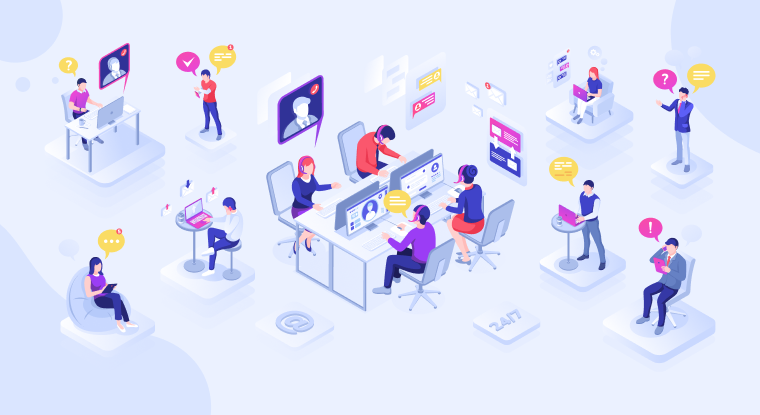 Customer service software is a vital part of a positive customer experience. Customer service software is a tool that can help your company handle customer interactions more efficiently.
It allows you to increase your team's productivity by simplifying workflows and keeping track of consumer inquiries. It also enables you to provide better service to your consumers by providing them with more relevant and quick replies.
You may service consumers over a variety of channels, including email, chat, social media, phone, and more, with a customer support system. The most essential role of any software-based customer service solution is to improve the customer and customer care executive communication experience.
Why Should Businesses Use Customer Service Software?
Customer service software makes it simple for your company to give excellent service to its customers. This leads to higher client retention, which equals more money in the long term for your company. Since customers play an important role in your business, investing in the correct support software stack may give you an edge over the competition. Below are a few reasons why your company should use a customer service tool:
Customer service software allows you to manage all of your inquiries in one location. It makes it simple to allocate tasks to your staff and allows them to collaborate more efficiently.

According to a report, when contacting a company's customer service department, 90% of customers consider an ""instant"" response extremely important. With such high customer expectations, this software can enable employees to provide prompt and empathetic assistance when issues arise.

Customer service software allows you to eliminate redundant tasks, maintain track of customer inquiries, coordinate responses across several teams, and provide up-to-date responses.
List of Best Customer Service Software
Now that we've addressed the necessity of customer service, let's take a look at the top seven customer service software in 2022:
1. NinjaChat
NinjaChat software is one of the best live chat software. Its goal is to help you get more clients to interact with you. NinjaChat improves customer service by delivering quicker resolutions to consumer issues. This software includes capabilities such as chat transfer, infinite departments, chat history, real-time dashboards, file transfer, customizable themes, and chat feedback.
NinjaChat allows your customers to connect with many departments at once, resulting in quicker responses. It also contains a variety of features that work together to make it an all-in-one live chat solution.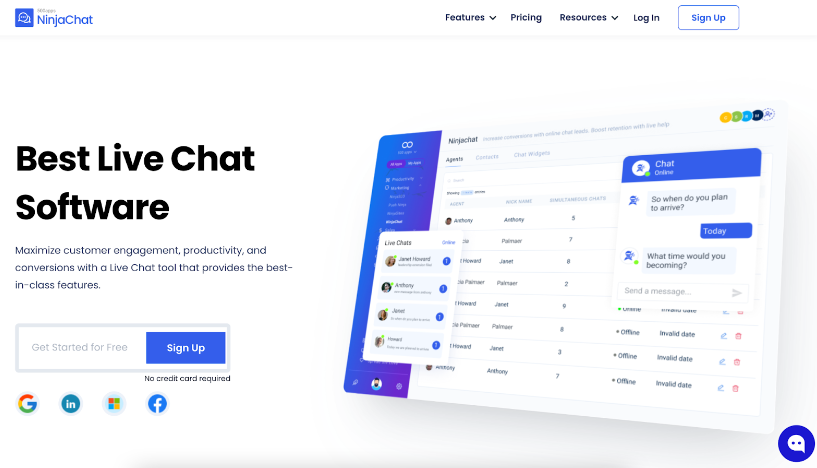 Features
You can develop a chat widget in minutes and customize the conversations for your company website to match your brand identity.

You may email your conversation history to your customers as a record of your informative interaction.

NinjaChat software allows you to exchange and transfer essential data privately and securely over the internet.

You can move discussions to individual agents for a speedy response. To reduce the client's wait time, the conversation with the waiting customer can be allocated to a different agent.

Customers from all around the world get access to your website or app in at least 12 different languages.
Enhance your Customer Support Experience with Live Chat Software Sign Up 14 Day Trial
Pricing
$14.99 for a suite of 39 business software. There is also a free trial version for 14 days.
2. Zendesk
Customer service software from Zendesk enables organizations to create seamless customer experiences. From a single, unified interface, Zendesk's Agent Workspace provides agents with all of the tools they need to communicate with other teams, and provide rapid, tailored replies on every channel.
Zendesk's customer support software is simple to set up and operate, and it is scalable to meet the demands of companies of any size. Zendesk also interacts smoothly with other tools, data, and communications across all departments, ensuring easy customer service and fewer communication errors in complicated processes.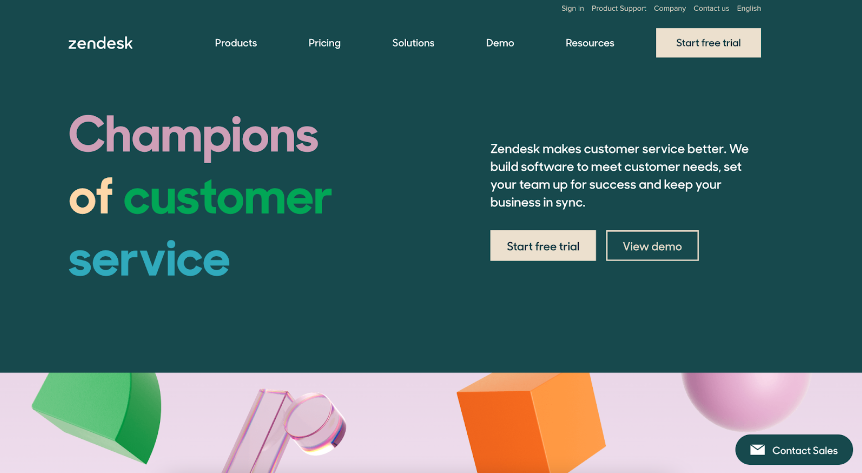 Features
Its AI-powered technology can help you increase the effectiveness of your workforce and give superior customer service.

Zendesk interacts seamlessly with your available technology stack, allowing you to get the most out of the resources you already have.

It offers free 6-month credit to startups. It also provides them with access to a network of customer interaction experts along with special tools.
Pricing
Zendesk is available for free for six months to startups. The foundational support package for small businesses starts at $19 per agent per month with limited features.
3. Freshdesk
Freshdesk is one of the most widely used customer service app. It's well-known for its user-friendly UI. It allows every member of your support staff to keep track of new support tickets and their status, as well as know all about who is managing which ticket. Freshdesk provides multi-channel customer service in 26 different languages via email, phone, chat, and social media. Self-service options such as a knowledge base and help forums are also included in the application.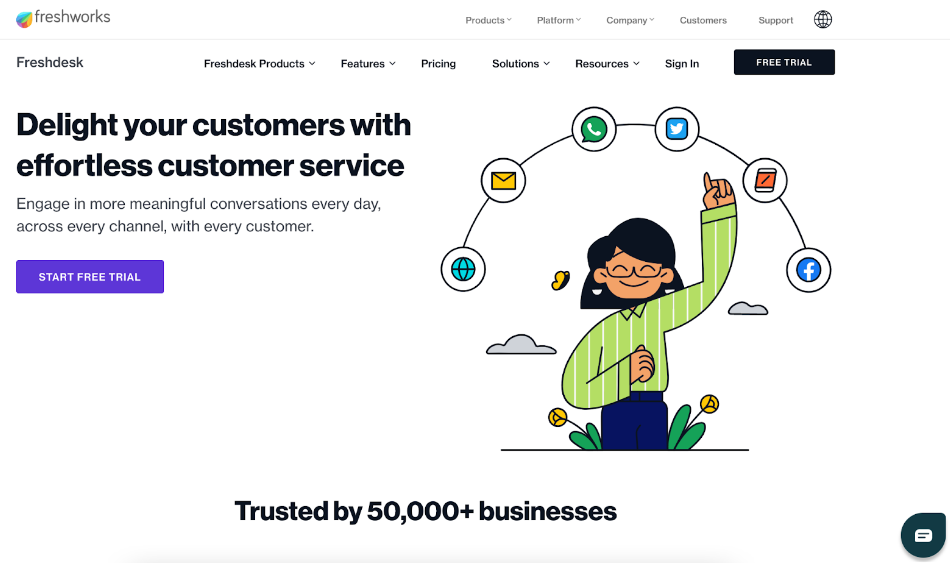 Features
You can handle complicated client concerns by breaking those into smaller tickets using its parent-child ticketing capability.

Its sophisticated ticket allocation feature allows you to assign tickets to agents depending on their current workload or skill level.

It also allows you to create customized reports to better evaluate agent performance.

It has a lot of UI Theming options for processes, customer interfaces, agent roles, and other features.
Pricing
Freshdesk offers a free 21-day trial that includes all of the software's functionality. It offers a free starter bundle with restricted functionality for up to 10 agents. Its monthly growth plans start at $15 per agent.
4. Help Scout
Help Scout is ideal for developing customer service teams who want to provide email and chat assistance from a single platform. It has a comprehensive feature set that includes, among other things, ticket routing and prioritization, job automation, agent performance reports, collision detection, and response templates.
Help Scout even allows you to personalize your helpdesk, limiting it to only your team's capabilities. They offer a large discount on customer service software if your organization promotes human rights or ecological sustainability. Some non-profits may qualify for discounts of up to 100%.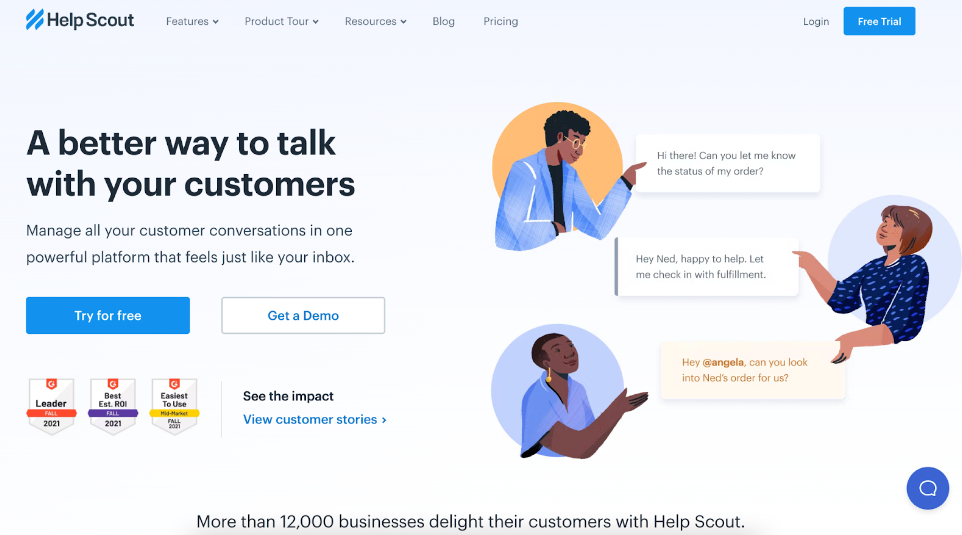 Features
Its plans can be tailored to your team's specific requirements.

Help Scout also includes a knowledge base in addition to email and chat help.

Help Scout has several integrations that allow you to utilize it in conjunction with your current customer service solutions and channels.
Pricing
Help Scout provides a 15-day free trial. It offers monthly rates beginning at $20 per person.
5. Zoho Desk
Zoho Desk is another popular customer service tool for small businesses. It includes basic helpdesk functions, extensive ticket tracking, task automation, and performance reporting capabilities to assist in optimizing your team's support activities.
One of the reasons Zoho Desk is a popular customer support solution is because it allows you to provide multichannel assistance to your clients in many languages via email, social media, live chat, web forms, and telephone. Above all, it's perhaps the greatest customer support software for ticket management and resolution.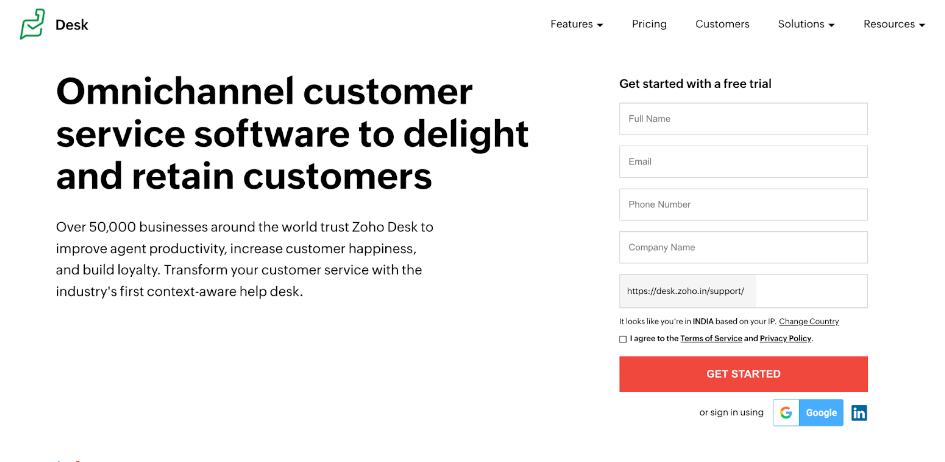 Features
Based on your prior customer engagements, it provides you with detailed context for each new request.

It assists you in determining the emotion (positive or negative) behind each incoming customer request, allowing you to direct your experienced agents to prioritize crucial customer issues.

It allows you to automate operations, provide multichannel assistance, and measure key support KPIs. It also has a knowledge base function that allows your consumers to self-serve.
Pricing
Zoho Desk has a free plan with limited functionalities that lasts forever. The standard plan is $12 per month per agent.
6. Intercom
Intercom is another well-known brand in the field of customer support software. Users can provide customer service via live chat, email, and self-service platforms. The application is extremely simple to use, and its assisted, immersive tours make learning the application much easier for new users.
A chat widget, which you may put on your website, app, or product, is one of its most popular features. Customers no longer need to go to your website to get chat help with this omnichannel approach. Instead, customers can obtain assistance exactly where they are, saving time and decreasing customer experience friction.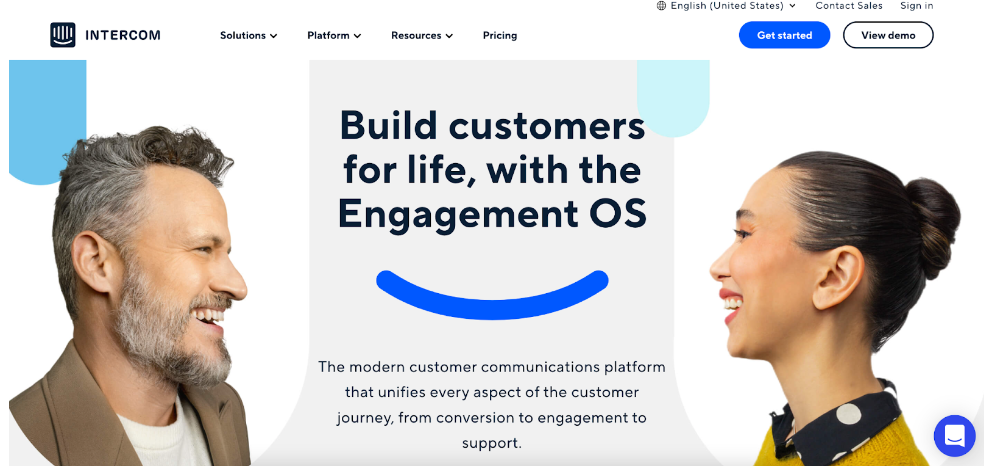 Features
Intercom allows you to manage all of your customer service conversations from a single location.

It allows you to connect customer information from across your overall technology stack, accessing up-to-date customer data and customizing every encounter with customers.

It has features such as simple ticket management, multi-channel support, reply templates, automation, performance indicators, and a self-service site, among others.
Pricing
Intercom provides a 14-day free trial. Its Starter package costs $67 per month for one seat and $19 per month for each extra seat.
7. Hiver
Hiver would be a wonderful support option to explore for your business if you communicate with your customers mostly through email and live chat. Hiver is the first Google Workspace helpdesk in the world. It offers a simple learning curve and a straightforward collection of features that allow you to handle all of your customer emails directly from Gmail - a tool you're already acquainted with.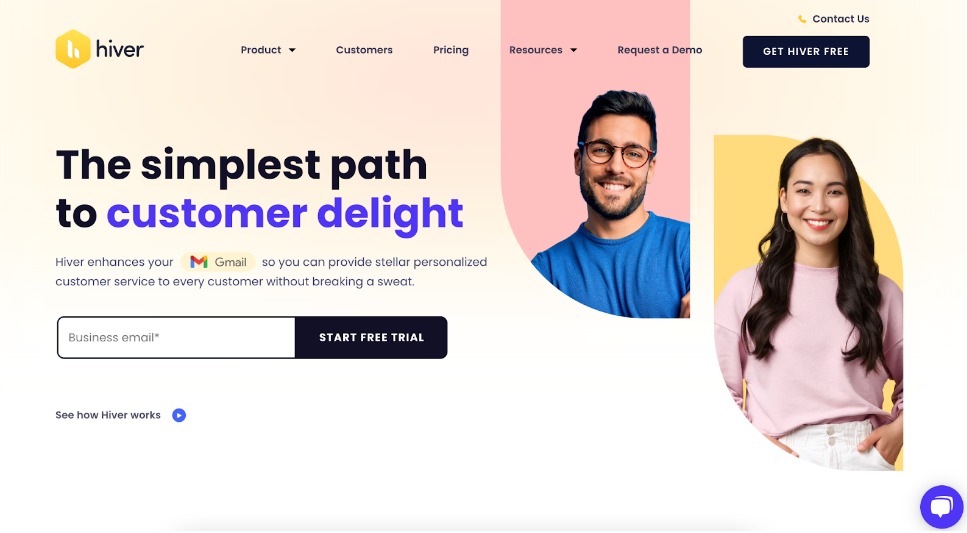 Features
You may easily allocate emails to relevant team members using email delegation.

You may provide real-time help to your customers with the live chat.

Hiver Notes allows you to add extra context to emails while delegating them and interacting with team members without the need for CCs or forwarding.
Pricing
Hiver provides a free 7-day trial. Monthly and annual memberships are available, with prices ranging from $12 to $57 per user each month.
Summing it Up
Choosing the correct software and understanding how to incorporate it into your business model may make a huge impact on the growth and profitability of your company. Customer service software has climbed through the leagues as consumer expectations increase, and they've become a powerful tool for businesses to engage with customers and give real-time help.
If you are on the lookout for an all-in-one, low-cost customer service software, NinjaChat is the right choice for you. NinjaChat can be used on websites, social media, and mobile apps to improve response times, engage website visitors, and provide customer care with ease.
What Makes the Best Live Chat Software?
#1
Convert your visitors and provide real-time help from your website
#2
Chat with your customers through text, voice & video support
#3
Get 24/5 chatbot service and automate the frequently asked questions through BotUp
#4
Personalize chat theme to align with your website design
#5
Integrate NinjaChat with built-in helpdesk software, Support.cc
#6
Choose CRM software such as CRM.io to embed your chat activity
#7
Filter reports by date and agent to monitor agent performance
#8
Manage unlimited departments and get access to unlimited chats with no extra charges
#9
Unbelievable pricing - the lowest you will ever find
#10
Everything your business needs - 50 apps, 24/5 support and 99.95% uptime
Join the SaaS Revolution
All-in-One Suite of 50 apps

Unbelievable pricing - $14.99/user

24/5 Chat, Phone and Email Support