Basic Guide on Live Chat System and its Features
Learn how a live chat system is essential for a business by knowing its benefits, top features and the factors to consider before buying it.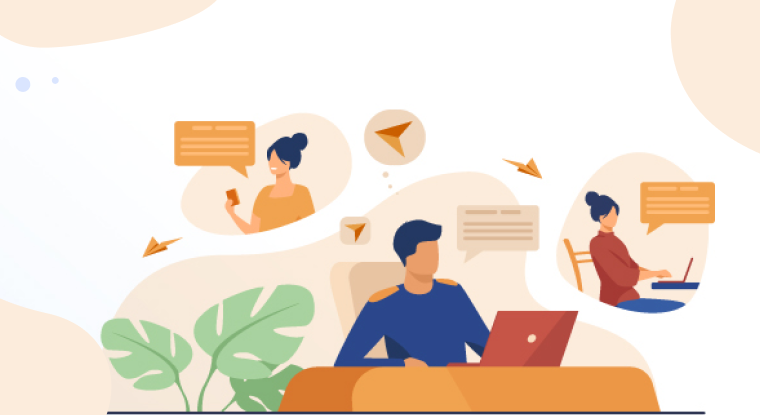 A live chat system is a customer messaging software that enables patrons to communicate immediately with corporate employees. Through this customer service channel, your firm can satisfy consumers' requests and assist them in a better customer journey by providing quick solutions to their queries. Thus, it can be fruitful to staff your service at all times. This includes being mindful of service demand and preventing high wait periods.
What is a Live Chat System?
Phone calls are the most prevailing customer care service channel among corporations. However, they do not always work out due to the prevalence of different time zones. This is where live chat systems come in.
The question now is, why opt for a live chat system over other customer service channels like email or social media?
The statistics are clear: given a chance, the average consumer will prefer real-time help through multi-channel support, such as by phone email, or social media. Furthermore, by opting for live chat, people may continue in the flow of their job instead of interrupting it to make a phone call or send an email and wait for a response.
According to Zendesk research, customer satisfaction ratings for live chat (85 percent) are second only to phone support (91 percent), overtaking help centre articles (83 percent), email support (82 percent), Twitter assistance (81 percent), and Facebook support (74 percent).
This statistical data is convincing enough to incorporate into your customer service channels.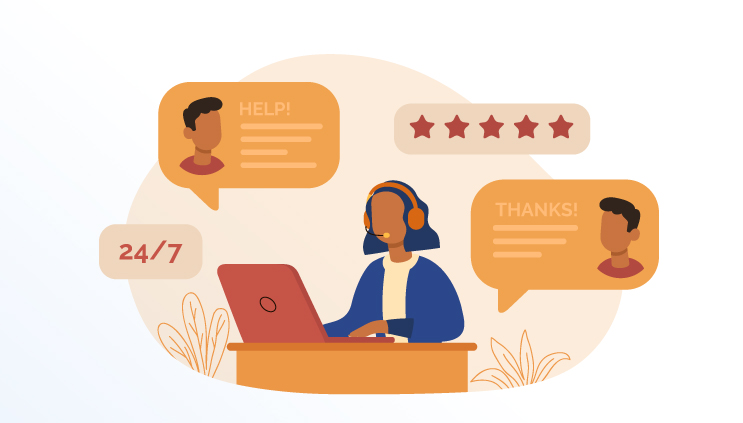 Benefits of Using Them
The advantages of live chat go well beyond providing your consumers with a faster and more comfortable means to contact your customer care staff.
Live chat is an excellent method to instill trust in consumers and persuade them to use your product or spend money on your website. In fact, consumers who utilize live chat are 2.8 times more likely to complete a purchase than those who do not. Furthermore, 65 percent of consumers are more likely to return to a website that features a live chat system.
A live chat system also allows your representatives to establish a good rapport with clients by replicating style or changing formality to meet a customer's requirements.
Lastly, live chat decreases customer recurrence. With a live chat software, operators may read the text provided by the customer while simultaneously evaluating additional information. This includes information such as the customer's screen content and notes from past conversations with customer service.
Top Features of Live Chat System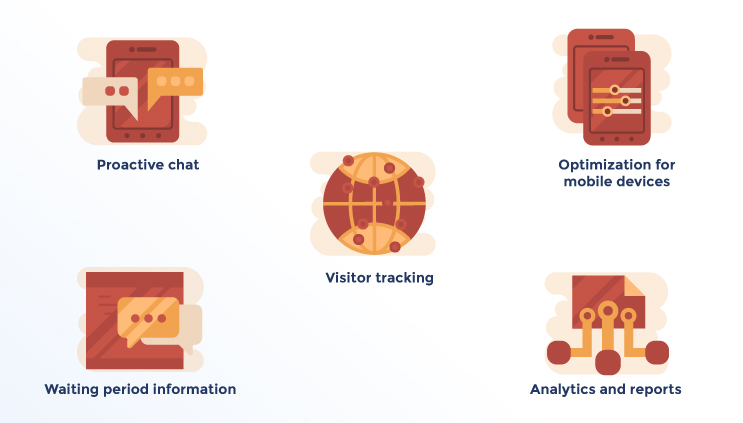 A live chat system must have specific key characteristics to ensure customer satisfaction.
1. Proactive Chat
On average, 60% of consumers dislike waiting for longer than a minute. Therefore, a feature where your customer service operators provide immediate assistance is essential for customer satisfaction.
2. Visitor Tracking
This thorough tracking service gives you a greater understanding of your website's users' activity. It contains data such as the length of time a visitor spends in the conversation and your agents' general performance.
3. Waiting Period Information
Waiting for extended periods may cause your visitors to leave your website, which lowers your company's customer satisfaction score. It might also result in the loss of a possible sale. Therefore, it is essential to provide your visitors with an estimate of how long they would have to wait before initiating a live chat session with your agents.
Increase your Customer Support Experience with Live Chat Software Sign Up 14 Day Trial
4. Optimization for Mobile Devices
As a majority of the population worldwide use mobile phones to browse the Internet, this feature allows your website to support all sorts of website visitors regardless of the device they are using.
5. Analytics and Reports
This is a necessary feature for recording essential data such as operations, conversation history, tracking conversations, visitors' information, and average time spent on conversations. These statistics are critical for identifying effective techniques and areas for improvement.
Factors to Consider before Buying
Choosing the right live chat system for your company can be tedious. To finalize one among the many systems available, look for these three features:
1. Self-hosted vs. Cloud-based Live Chat Apps
When looking for live chat software, first determine if you want to opt for a self-hosted or cloud-based platform. Self-hosted services host applications on the organization's technological infrastructures, while cloud-hosted software is housed on a third-party server and accessible over the Internet.
2. Onboarding
Ensure that the system you choose is simple to use and can be integrated into your website in minutes. It is preferable to use a solution that requires you to copy and paste the chat code onto the web page. This ease of use allows your operators to get started and reach your visitors quickly.
Another benefit of choosing an easy-to-use tool is that you don't waste time learning how it works and instead focus on tasks more important to your business.
3. Continuous Mobile Support
Ensure that you're using mobile-friendly support. With more users visiting websites through mobile devices and purchasing on the move, live chat software must be mobile-ready for Android and iOS platforms. Therefore, while looking for a live chat, inquire whether the program is compatible with all mobile devices.
Through a mobile-friendly chat tool, you can:
Aim never to throw away a lead.
Assist consumers at all times and from any location.
Help consumers make educated decisions.
Keep your clients happy with 24x7 customer service.
Summing it Up
High-quality service goes beyond merely delivering factual information to knowing what a customer seeks to accomplish and assisting them in doing it. Live chat help may expedite the process by permitting a more natural conversational approach. A competent support representative can ask the right questions and swiftly guide clients to where they need to go.
An excellent live chat system enables you to integrate real-time chat assistance with self-service alternatives and an email contact point, allowing for various support experiences based on the customer's choices and the support team's skills.
NinjaChat is a live chat system developed by 500apps that enables you to create a robust customer service environment by communicating with your customers in real time. The application offers all the essential characteristics of an excellent live chat system and unique features like a built-in chatbot software to assist your customers 24/7.
What Makes the Best Live Chat Software?
#1
Convert your visitors and provide real-time help from your website
#2
Chat with your customers through text, voice & video support
#3
Get 24/5 chatbot service and automate the frequently asked questions through BotUp
#4
Personalize chat theme to align with your website design
#5
Integrate NinjaChat with built-in helpdesk software, Support.cc
#6
Choose CRM software such as CRM.io to embed your chat activity
#7
Filter reports by date and agent to monitor agent performance
#8
Manage unlimited departments and get access to unlimited chats with no extra charges
#9
Unbelievable pricing - the lowest you will ever find
#10
Everything your business needs - 50 apps, 24/5 support and 99.95% uptime
Join the SaaS Revolution
All-in-One Suite of 50 apps

Unbelievable pricing - $14.99/user

24/5 Chat, Phone and Email Support