How to Convert Website Traffic into Sales with Web Chat Software?
The blog explains what web chat software is, 5 ways to convert website traffic with web chat software, and how does NinjaChat help in detail.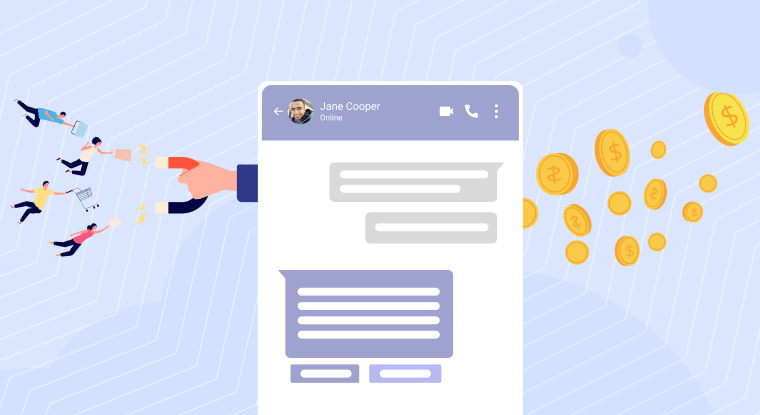 Businesses should be present wherever their consumers are, especially when those customers want assistance. Customers demand convenience, timeliness, and personalization from support personnel when they are in need. A web chat software must contain all three features. They are also essential to convert visitors, that is, to convince website visitors to become chat developers.
What Is Web Chat Software?
Web chat, sometimes known as live chat, is a platform that allows businesses and customers to communicate and aids in the resolution of sales and support-related issues. Web-based chat is appropriate for this use case since the chat window is instantly available and may be utilized by anybody who needs it.
From the customer's perspective, it is also an anonymous route, which is vital for privacy. Of course, the corporation answering the chat would want to acquire the client's information and may ask the consumer to disclose it.
Web chat software has the following advantages:
Deliver Real-time Assistance
Using online web chat, you can easily engage your consumers in real time and deliver speedier sales or support assistance. It aids in improving your initial reaction time and increasing conversions.
Improve Customer Experience (CX)
Web chat enables visitors to ask questions that can be answered more quickly than by email or a phone call. Thus, customers enjoy a better brand experience when they obtain rapid solutions.
Improve Customer Satisfaction
Web chat provides consumers with a straightforward approach to accessing solutions to difficulties arising while browsing your website. The live chat service provides help immediately, thus increasing consumer pleasure.
5 Ways to Convert Website Traffic with Web Chat Software
Here are 5 ways to effectively convert website traffic using this powerful tool: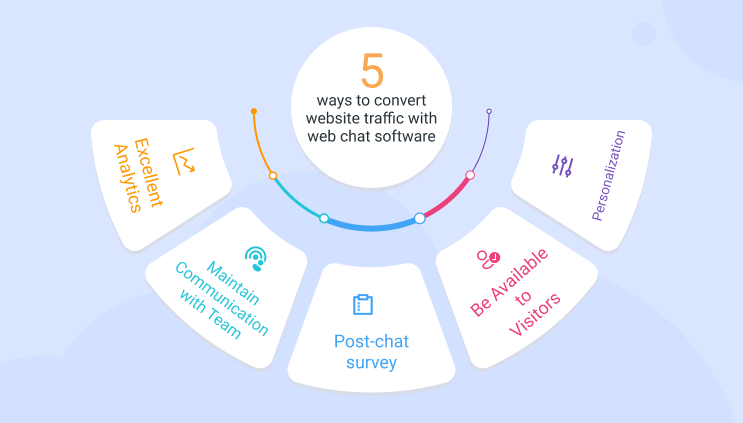 1. Maintain Excellent Analytics
Your web chat software offers statistics that may be used to learn more about the behavior of your website visitors. Such information includes the most visited pages, how they got there, how long they remain on that page, and much more.
All web chat software performs these tasks. However, the feature that distinguishes the best chat software from the others and leads to a higher conversion rate provides insights about who may be the ideal opportunity to commence a live chat session. These programs analyze consumer data to assess whether or not a person is a good candidate for a live chat query.
For example, consider the case of a high-end e-commerce business that sells furniture. With such high-priced things, visitors sometimes take their time making judgments. They may even visit the website multiple times before completing a purchase. A good chat software's analytical capabilities give your representatives important knowledge about clients who have been comparing different brands. Customer care agents may use this information to start a live chat. Then, during the discussion, they may advertise the company items or services in front of clients, resulting in higher sales.
2. Maintain Communication with Your Sales Team
If your organization is like others, you presumably invest substantial money in training your support agents. While well-trained agents are excellent at giving navigation help and answering general inquiries about your company and goods, they may not be able to close transactions or sell on their own.
One solution is to encourage agents to transfer the call to salespeople as soon as a visitor expresses an interest in the company's products or services. However, this technique tends to displease certain visitors, and they end the conversation. However, through live chat software, your sales staff can easily respond to customer queries and thus, make more deals.
3. Post-Chat Survey
Another strategy to boost conversions is to improve your customer service. You may use post-chat surveys to learn what clients think about your organization or the kind of service you give. Simply inquiring if their concerns have been handled or not can lead to greater visitor conversion.
While not available with all live chat software, the top ones provide a lot of leeway when customizing post-conversation forms with your fields and inquiries. They allow you to ask customers about their problem areas and whether or not they bought from you.
Enhance your Customer Support Experience with Live Chat Software Sign Up 14 Day Trial
Many businesses also employ post-chat surveys just to acquire a better understanding of their agents' performance. However, if you only use post-chat surveys to acquire a "star" rating for your agents' customer service, you're missing out on the information they provide.
Overall, you need to consider post-chat surveys as another opportunity to demonstrate to visitors why you deserve their business and loyalty to attract new clients.
4. Be Available to Visitors
If your company is like others, your office is presumably open from 9 a.m. to 5 p.m. However, when it comes to being open on the Internet, your consumers and visitors can be much more demanding.
It is essential to keep in mind that potential clients are up and utilizing the Internet around the clock. Therefore, you must make every effort to keep your live chat system manned and operational 24 hours a day. You can consider extending your live chat hours if feasible to guarantee that someone is accessible to receive live chat requests and answer inquiries.
Furthermore, installing a live chat technology that allows agents to interact with mobile devices will significantly assist you in expanding support hours.
5. Execute Personalization
Personalization is usually the greatest method to attract a consumer, and it is quite simple to do so during a conversation. You can first upload images of your chat agents so that your website visitors can put a face to the person they're speaking with. This enhances the experience by making it more natural and interesting. Another option is to customize the welcoming message with the UI Theming option. A tailored chat invitation will entice them to speak with your operators. This also allows clients to express their concerns and discuss their difficulties in finishing the checkout process.
How Does NinjaChat Help?
NinjaChat by 500apps is a web chat software on the market. The application allows you to schedule and automate your communications to maximize engagement. The feature aids the goal of live chat, which is to begin and manage one-on-one contacts with clients and ultimately increase sales activity.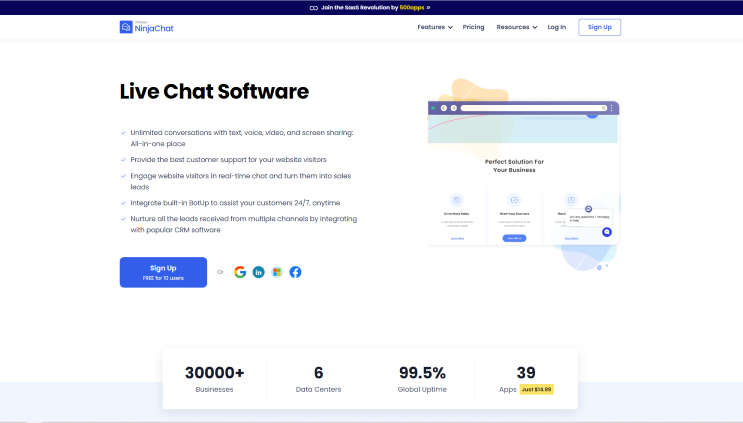 You can also keep track of all conversation history in your chat that records each interaction's content, timestamps, location, and files for a swift resolution. In addition, the application can help profile your customers. In other words, based on the questions you ask, you will be able to pick the suitable lead with the best conversion probability.
To save waiting time and enhance productivity, employees can also use the chat transfer function to switch between chats with consumers seamlessly. Lastly, NinjaChat provides high-quality numerous dashboard choices for tracking and analyzing customer and agent information, allowing you to see exactly what is happening in your department.
Summing It Up
The usage of web chat will grow more prevalent as chatbots become more intelligent. Webchat covers many of the concerns that arise when determining which communication channel to utilize with a consumer. Webchat outperforms traditional chat programs in terms of security, capacity to change behavior and interface, simplicity of maintenance, and end-user accessibility.
It is also far better than an email or a phone call with the customer. Thus, every company must employ web chat software to deliver convenience for ongoing, day-to-day chat requirements, increasing customer satisfaction along the way.
What Makes the Best Live Chat Software?
#1
Convert your visitors and provide real-time help from your website
#2
Chat with your customers through text, voice & video support
#3
Get 24/5 chatbot service and automate the frequently asked questions through BotUp
#4
Personalize chat theme to align with your website design
#5
Integrate NinjaChat with built-in helpdesk software, Support.cc
#6
Choose CRM software such as CRM.io to embed your chat activity
#7
Filter reports by date and agent to monitor agent performance
#8
Manage unlimited departments and get access to unlimited chats with no extra charges
#9
Unbelievable pricing - the lowest you will ever find
#10
Everything your business needs - 50 apps, 24/5 support and 99.95% uptime
Join the SaaS Revolution
All-in-One Suite of 50 apps

Unbelievable pricing - $14.99/user

24/5 Chat, Phone and Email Support