Top 6 Web Chat Software in 2023
Web chat software is in vogue because most companies understand the need to have software that helps them answer the queries of the customers in a dynamic and real-time way.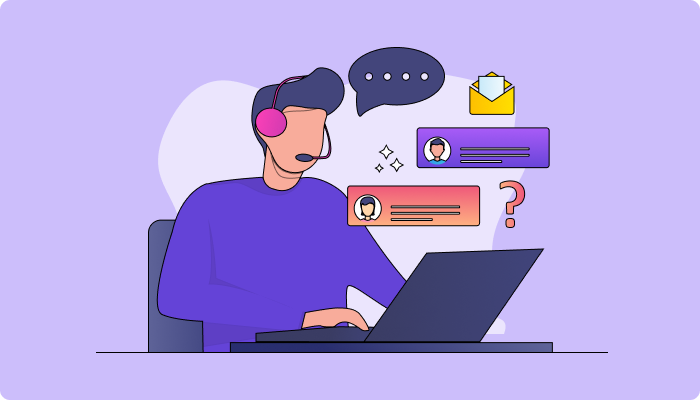 A lot of companies offer the provision for live chat. This has become important because the live chat tool ensures that the customers will be able to solve their problems and get answers to their queries in a real-time scenario. It also helps in building great brand loyalty as well because people understand the details of the products and/or services in a much better way.
There is no dearth of live chat tools and so you will have plenty of options at hand. This is the reason you should be willing to explore the details of the tools we will be talking about here. Once you have gone through it, you will be able to decide on the best website chat tool that will help you out.
Web Chat: An Overview
If you are not clear as to what website chat is and what purpose and importance it has, here are the details you need.
A website chat is mainly a tool that allows visitors to the site to get the right answers to their queries. The best thing is that they can get the answers in real time without any wait time whatsoever. This brings in better CTR as well.
With the best web chat software, you will be able to forge the right connection with your customers. In this current super competitive world of business, you need to gain an edge over the rest and by having chat support, you can make things work.
It has been seen that the live chat facility allows you to ensure that you can retain your customers. Most of the time, the support team will give a ready response and they will therefore make the customers contented and satisfied. This can bring in better repeat sales numbers.
Top 6 Web Chat Software
Here are some of the top web chat software that you can use. Most of these tools are equipped with the best set of features and it is upon you to analyze what works best for you and the firm.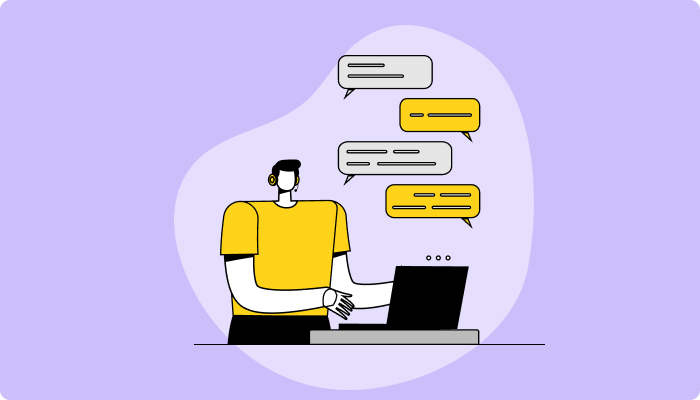 NinjaChat
Made by 500 Apps, this is a smartly designed tool with a lot of amazing features. Let us see what they are.
Create several agents and help them use this one tool to answer different customers together simultaneously.
Integrate it with third-party apps and thereby do a whole lot more with the live chat tool.
Set up bots to assist the customers and thereby get the live chat done sans hassles.
Engage the customers coming to the site and thereby give them the desired information in the real-time world.
Create the contact lists easily and sync them on different accounts and devices for ready access as and when needed.
So, the app is surely a great tool as far as a live chat tool is concerned.
Get started with the leading Web Chat Software today! Sign Up 14 Day Trial
Live Chat
This is an excellent web chat software to use when it comes to helping people carry out live chat. Here are the key features.
This is a great live chat tool that comes with a very easy-to-use interface and requires no additional training.
Easily integrate it with several third-party apps including Facebook, WordPress, Shopify, and Salesforce, and thereby do a whole lot more.
See what the customers are typing even before they have sent the message so it allows you to prepare well.
Tidio
Yet another popular website chat app, comes with a flurry of features.
It has an AI-responsive bot configured to make things work.
The free version too has several features and functionalities to offer.
Mainly targets mid-sized businesses and helps meticulously solve customer issues.
Comes with an easy-to-use slick live chat design that is quick and efficient. It however lacks very advanced functionalities.
Zendesk
This is one of the top-rated live chat tools in the market at the moment. Let us see what it has to offer.
Comes with super smooth and easy CMS integrations which make the live chat software very robust to use.
Gives users the provision to speak to the customers in real-time and therefore it boosts the loyalty of the brand significantly.
Comes with a very powerful chatbot function that can respond to queries earnestly.
Chatbots work in an excellent way to answer the FAQ and the overall feedback has been promising.
Integrate JavaScript API to ensure the live chats get smarter.
HubSpot Service Hub
Another great live chat app, this one packs some really smart features into it.
It is free-to-use web chat software with several advanced functions as well.
Offers the provision to integrate slack which greatly diversifies what this app can achieve.
Engage in live chat with your customers and answer their queries in real time. This helps in building the right trust and also wins the confidence of the customers. This strategy is almost always known to lead to better sales and reduced bounce rates.
Personalize the look when setting up the live chat widget.
You can also use this app on your mobile for seamless communication on the go.
LiveAgent
Here are the standout features of this live chat software.
Comes with a very easy-to-use dashboard that is smooth to operate.
Gives you great ticketing solutions and an easy live chat facility.
It also has a super smooth internal messaging feature integrated into it.
You can also choose to add your social media channels to it and make the whole support thing a lot more responsive. So, these are the website chat software apps you can explore from. Make sure to pick the one that will serve your needs in a befitting way and allow you to truly attend to your customers.
Role of Web Chat
The role of website chat software is as follows.
Helps in making the companies much more responsive. This, therefore, has a direct impact on the positive image of the company.
Allows you to have a dedicated live chat team to solve the queries of your customers.
Helps in getting better repeat customers as it enforces brand loyalty in the right manner.
Helps you solve the problems of the customers in a much more dynamic way and thereby gained their trust in the right way. So, this is the important role that web chat software is known to play in the world of business.
Final Thoughts
So now that you are aware of the key details about the different web chat software, you are in a better position to decide on the right tools to opt for. Always remember that having a web chat tool has become more of a necessity or else you will lag in this intensely competitive world of business. If you want to stay a step ahead of your competitors, the right thing to do is find the best live chat tool and then have a dedicated team look at it.
What Makes the Best Live Chat Software?
#1
Convert your visitors and provide real-time help from your website
#2
Chat with your customers through text, voice & video support
#3
Get 24/5 chatbot service and automate the frequently asked questions through BotUp
#4
Personalize chat theme to align with your website design
#5
Integrate NinjaChat with built-in helpdesk software, Support.cc
#6
Choose CRM software such as CRM.io to embed your chat activity
#7
Filter reports by date and agent to monitor agent performance
#8
Manage unlimited departments and get access to unlimited chats with no extra charges
#9
Unbelievable pricing - the lowest you will ever find
#10
Everything your business needs - 50 apps, 24/5 support and 99.95% uptime
Join the SaaS Revolution
All-in-One Suite of 50 apps

Unbelievable pricing - $14.99/user

24/5 Chat, Phone and Email Support