Guide on Using Live Chat Software for Customer Support
The article explains what live chat software is and how it works along with the advantages of live chat software in detail.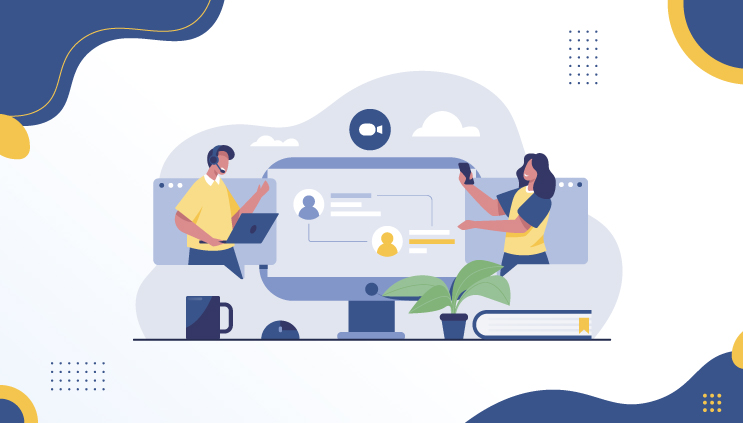 Live Chat Software is a critical tool for companies seeking to offer a personalized experience for their customers. As customers spend more time on mobile, 68% of them prefer a live chat feature to get prompt and perfect answers to their concerns on the website.
Implementing a Live Chat Solution for your business will allow you to understand your customers' thoughts/expectations, solve their problems faster, and support them better.
What is Live Chat Software?
Live Chat Software acts as a medium for your business to communicate and engage with your customers/visitors in a real-time and human-assisted chat window. The system helps you initiate a conversation with the users who visit your website or interact with your returning and existing potential customers.
This software delivers a personalized customer experience and better brand interactions in a modern and contextual way, retaining the customer for the long haul. The software can be used in every part of your organization, from marketing to customer support teams.
How Does it Work?
Live Chat Software enables the online chats to take place inside a chatbox, a part of the system. The first and foremost benefit of the software is that your customers/visitors neither have to install anything on their devices nor do they have to sign up for any service to interact with you.
Once your customers visit your website, your customers will notice a small chat window type in the bottom right corner of the page. The window pops up automatically with a message indicator, asking the visitor if they need any help in purchasing or choosing a service. The action can be seen as,
Step 1 – The customer or user will type their query or even attach a file in the chat window.
Step 2 – The live chat operator will receive the message and type the response accordingly.
Step 3 – Now, the customer will get convenient answers to their concerns.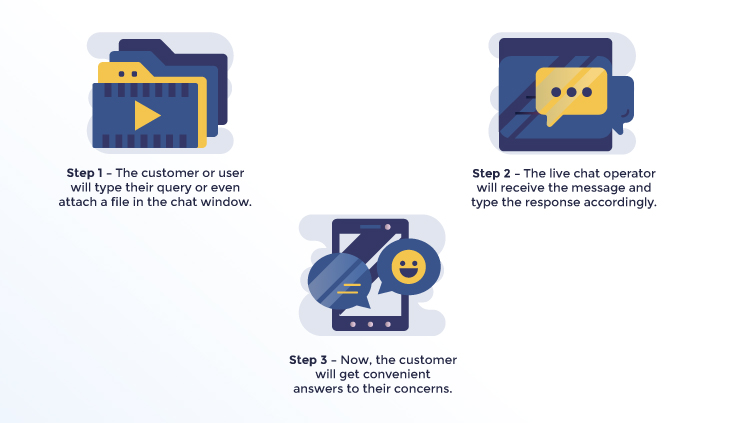 Who Uses Live Chat Software?
When you build your live chat tool, it's imperative to keep your customers' best interests in mind, as it lets you build a good rapport with them and increase your sales. Here are some 'teams' who tend to gain 'power' through live chat software.
1. Sales Team
52% of customers are likely to purchase. The sales team has numerous advantages through live chat. First, authorities can use live chat software to interact efficiently with customers and respond instantly to their concerns. It also helps the authorities quickly push the lead into the pipeline, asking the buyers to complete the purchase and motivating them to go to their cart.
Improve your Customer Support Experience with Live Chat Software Sign Up 14 Day Trial
2. Support Team
Based on a study, 51% of consumers say that a business needs to be available throughout the day. It indicates that the role of live chat software has become crucial in the last few years. Due to technological advancements and AI automation, customers no longer like to wait. Employing live chat support enables your business to meet the standards and expectations of the customers.
3. Marketing Team
A study showed that proactive chat invitations on mobile devices are enhancing engagement rates by 400%. Marketing teams utilize live chat software with multi-channel support capabilities, where you can speak to more leads and increase your chances of finding qualified ones.
How to Choose the Best Live Chat Software?
A survey has reported that 79% of businesses tend to positively impact their sales, revenue, and customer loyalty after the incorporation of Live Chat Software. The benefits of the software are as follows.
Instantly turn visitors into customers
Maintain continuous and personalized conversations
Allow for affordable real-time communication
Provide proactive customer support
Speed up your sales cycle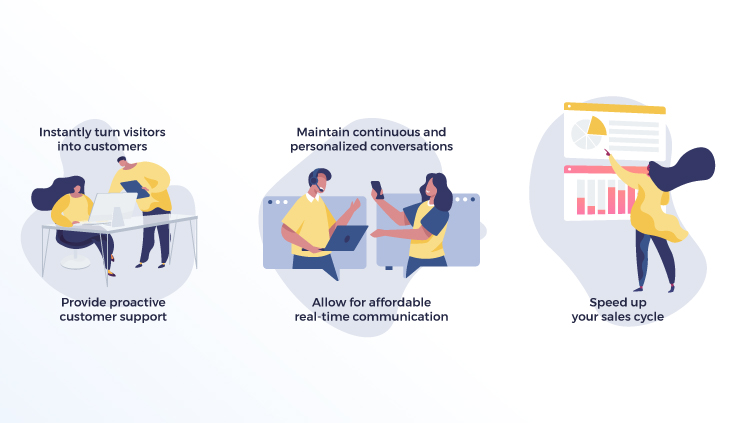 However, it is going to be a challenging task to know where to start amidst the infinite choices of live chat software available in all sizes and shapes. To help you navigate and find the right live chat support for your business, we have chalked up some features that you should evaluate while purchasing one.
1. Ease of Customize and Use
The live chat has to be user-friendly, even for a non-technical individual. Hence, it is important to choose an easily customizable live chat system that can help you market your brand image cohesively, thus helping you stand out and attract more customers.
2. Mobile Optimization
Around 4.5 billion people have smartphones in the digital era, and opting for Mobile optimization while choosing the live chat software could be a game-changer. Becoming Mobile-ready can help you reach a diverse range of customers, where your website can support various platforms – both android and iOS.
3. Proactive Chat and Monitoring
Live chat software should enable the agent to initiate a conversation and assist the visitor in increasing the engagement rate and satisfaction level. Moreover, it should also enable the organization to supervise the chat between agents and customers to track sales performance.
4. Chat Routing
This feature allows the agents to move a chat to other agents if they feel the other person could answer the concerns in a better way. The agents can also use the feature when they cannot accommodate the workload and cannot give adequate attention to the customers.
5. Chat Rating
This feature ensures customers get feedback and allows them to rate their conversation with the agent. Such information can give you an insight into the quality of the support service and the level of satisfaction.
NinjaChat Can Help You
NinjaChat from 500 apps is a powerful live chat software that comes with a completely customizable UI Theming, chatbots, and comprehensive features to deliver unprecedented 24/7 customer support. It offers a modern and reliable live chat solution, helping you build new positive practices for customer service.
Summing it Up
A customer-centric approach touches all aspects of your business, either online, offline, or both. Live Chat Software is a valuable asset for businesses in the future who want to increase the response time to customers and want to push them through the pipeline faster whenever the opportunity arises.
As customer expectations continue to rise, live chat software opens up the possibility of receiving positive feedback in regards to the customer experience, setting your business apart from the competitors.
What Makes the Best Live Chat Software?
#1
Convert your visitors and provide real-time help from your website
#2
Chat with your customers through text, voice & video support
#3
Get 24/5 chatbot service and automate the frequently asked questions through BotUp
#4
Personalize chat theme to align with your website design
#5
Integrate NinjaChat with built-in helpdesk software, Support.cc
#6
Choose CRM software such as CRM.io to embed your chat activity
#7
Filter reports by date and agent to monitor agent performance
#8
Manage unlimited departments and get access to unlimited chats with no extra charges
#9
Unbelievable pricing - the lowest you will ever find
#10
Everything your business needs - 50 apps, 24/5 support and 99.95% uptime
Join the SaaS Revolution
All-in-One Suite of 50 apps

Unbelievable pricing - $14.99/user

24/5 Chat, Phone and Email Support