How Does a Live Chat Tool Reduce Operational Costs?
The blog explains what a live chat tool is, why businesses should adopt them, and how live chat reduces operational costs in detail.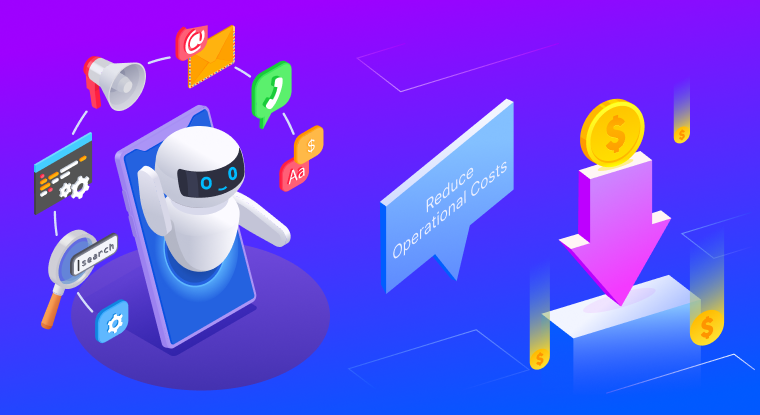 Gone are the days when phone calls were the most preferred way to clear customer complaints. Nowadays, in a world where most people prefer to shop online, a live chat tool is more favored by customers worldwide. According to reports, over 41% of customers expect live chat on a website. Hence, not offering a live chat tool can result in a loss of business.
Live chat has an 85 percent customer satisfaction score; thus, it would be a loss of revenue to not include a live chat tool on your website. Live chat allows you to communicate with people while they are already on your website. It may assist you in increasing customer happiness and increasing client loyalty and retention. Hence, every organization must add a live chat option on their website.
What is a Live Chat Tool?
Live chat is a communication tool that allows your firm to connect with consumers in real-time. It provides a tailored customer experience, improved brand engagements, a competitive advantage, and a method to sense the intention of your consumers. Hence, implementing a live chat system for your company may benefit your sales, marketing, and customer support staff throughout the customer's journey.
Live chat tool is the name given to the software that facilitates live chat. You may utilize live chat to start dialogues with new website visitors, communicate with returning customers, and help current users.
Increase your Customer Support Experience with Live Chat Software Sign Up 14 Day Trial
Why Should Businesses Adopt them?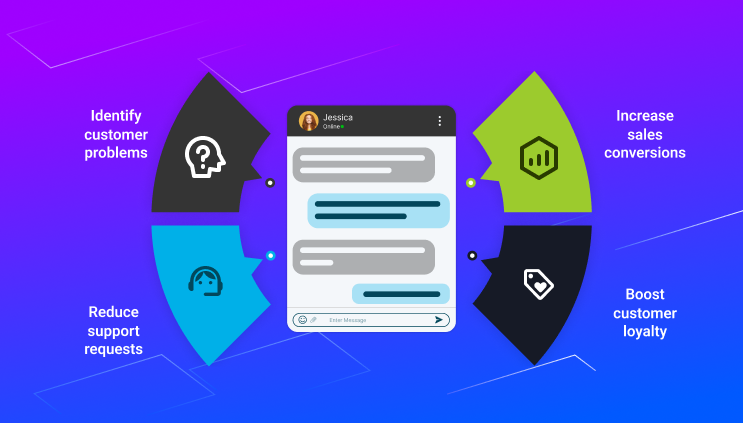 A live chat tool offers businesses several advantages, making them a must-have on all websites. Their advantages are as follows:
Identify Customer Problems: Through a live chat software, admins and supervisors can learn and understand the customer's problems. Hence, they can identify an effective way to resolve their issues.

Reduce Support Requests: An online chat feature is the quickest approach to assist consumers. It minimizes the number of support requests and gives real-time solutions to sales and support concerns.

Increase Sales Conversions: Live chat software has made it much easier to respond to customer queries quickly, which significantly affects positive sales.

Boost Customer Loyalty: Online conversation builds trust and client loyalty over time. Furthermore, clients who speak before purchase spend more money and are more likely to become loyal customers.
How Does a Live Chat Tool Reduce Operational Costs?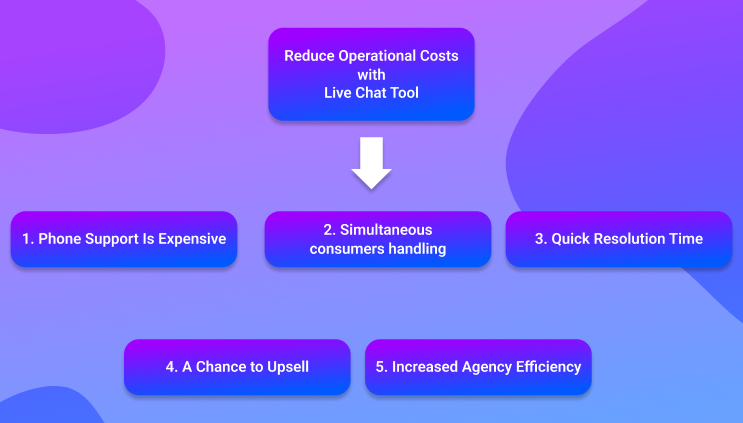 A live chat helps reduce the operational costs due to the following reasons:
1. Saves Cost as Phone Support is Expensive
Since the late 1960s, toll-free lines have been used as a way for customers to reach businesses quickly and for free. However, those toll-free calls are not accessible to the firm offering help. In reality, toll-free calling is costly.
Fortunately, as the Internet's popularity grows, more and more businesses are using live chat. Its low cost is why live chat is preferred over phone calls. There are two reasons why live chat is not as expensive. Firstly, live chat charges are often substantially lower than toll-free lines.
Two, live chat app operators can assist several customers simultaneously, something phone agents cannot do. A good phone support representative can help a few individuals simultaneously, assuming the customers don't mind being placed on hold many times.
However, even inexperienced operators may simultaneously assist three or four consumers with a live chat. Concurrent conversations can result in significant reductions in support expenditures over time.
2. Allows Agents to Serve Many Consumers Simultaneously
As mentioned above, online live chat allows agents to connect with three or four consumers simultaneously. Allowing your customer service workers to handle many discussions at the same time, live chat may significantly boost their productivity and efficiency. Furthermore, a smaller staff is required as a single worker can engage in six simultaneous conversations, depending on the intricacy of the issues at hand.
However, consumers prefer live chat because of the quick replies. Hence, chat operators are typically encouraged not to manage more than 2-3 concurrent chat sessions, as managing more could lead to an increase in response time and a decrease in customer satisfaction. This is not the only problem chat operators face when they handle too many chats at once.
An operator does not only chat with the customer. To assist the dialogue, they must be able to obtain the browsing history of the customer, previous conversation history, or chat history. This might lead to confusion between one customer's problems and another, leaving customers perplexed as to why they received a wrong response from an operator.
3. Gives a Quick Resolution Time
62% of businesses do not react to customer service emails, and the average response time to address a customer service request is more than 12 hours, resulting in a loss of consumers.
When it comes to live chat, response and resolution times are quick. In fact, according to a study conducted by Zopim, operators responded to a client inquiry in less than 23 seconds on average, with a resolution time of no more than 42 seconds. This, in turn, contributes to increased customer satisfaction when compared to email or voice channels since consumers receive immediate, tailored, and efficient service.
The best live chat tools include audio-video chat and co-browsing, a step away from ordinary screen-sharing. An agent can use co-browsing to observe and manipulate the customer's screen. This enables the agent to handle the customer's concern and go above and beyond to explain how their inquiry might be resolved in the future. Without any back and forth verbally, the agent may be able to swiftly demonstrate the procedures required to address a consumer's query.
4. Gives a Chance to Upsell
Customer service software gives your operators more opportunities to upsell due to the simplicity with which they can provide promotional brochures, information sheets, and other paperwork that help explain your products or services in depth. Selling and earning more tend to make whatever expenditures you pay far more reasonable. Hence, it would help if you seized any chance to close additional transactions, including pushing your agents and operators to upsell. Upselling has been popular among phone support operators for many years, but its effectiveness is dependent on an agent's ability to assist customers in visualizing the benefits of upgrading.
Hence, it can be very lucrative if your agent or operator can upsell the customer during a support conversation.
5. Increases Agency Efficiency
Live chat allows you to transfer the consumer's query directly to the person most capable of handling it. Escalating a customer inquiry is three times more expensive than resolving it at the initial point of contact. Therefore, the ability to route customer queries saves clients from describing their problems to several agents and boosts your First Call Resolution (FCR) rate.
Intelligent routing can be automated without requiring customers to fill out a pre-chat survey using custom parameters such as query type. You can tailor customer settings to meet your company's requirements.
For example, you can route inquiries based on themes to the proper subject matter expert or even by language and area to an agent who is fluent in that language and familiar with the region. Furthermore, due to familiarity with the subject, agents can anticipate what type of challenges they may face before the conversation begins, making them less likely to cause delays for the consumer.
Summing It Up
Live chat provides real-time service to clients at a cheaper cost to businesses while also generating direct profit. Hence, it is a win-win situation for your customers and your business. Aside from lowering operating costs, deploying live-chat-support may result in various additional competitive advantages for firms, including higher sales and ROI, better customer happiness, improved customer experience, increased customer-engagement, and brand loyalty.
If you have not yet provided live chat help on your website, now is the time to start. Opt for NinjaChat by 500apps as it is the best live chat tool on the market. It provides 24/7 customer assistance and is very simple to use. It is also quite reasonably priced at $14.99, as it comes with over 39 additional tools in the 500apps Suite.
This platform allows you to speak with a live agent whenever and wherever you choose. It also offers contact management, multimedia messaging, and various integrations. Last but not least, NinjaChat also includes a built-in BotUp automated assistant.
What Makes the Best Live Chat Software?
#1
Convert your visitors and provide real-time help from your website
#2
Chat with your customers through text, voice & video support
#3
Get 24/5 chatbot service and automate the frequently asked questions through BotUp
#4
Personalize chat theme to align with your website design
#5
Integrate NinjaChat with built-in helpdesk software, Support.cc
#6
Choose CRM software such as CRM.io to embed your chat activity
#7
Filter reports by date and agent to monitor agent performance
#8
Manage unlimited departments and get access to unlimited chats with no extra charges
#9
Unbelievable pricing - the lowest you will ever find
#10
Everything your business needs - 50 apps, 24/5 support and 99.95% uptime
Join the SaaS Revolution
All-in-One Suite of 50 apps

Unbelievable pricing - $14.99/user

24/5 Chat, Phone and Email Support