Best Website Live Chat Services & Software of the Year
Customers anticipate prompt responses to their inquiries, and any doubts they may have about their purchase could cost you a transaction. It is observed that more than 67% of online buyers leave their carts empty without finishing the transaction.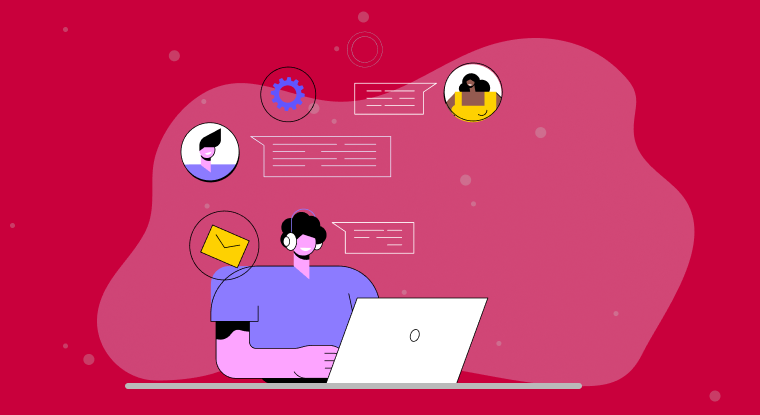 Are you trying to find the best website live chat services provider for your website for a small and medium businesses? Let us first look at the best website live chat services that is ideal for customer service software.
Features of the Best Website Live Chat Services
Here is a list of features that are present in the best website live chat services according to our research.
1. Highly Accessible
Through a regularly accessible button or link on your website or in your app, website live chat services software may be seamlessly included into your customers' workflow. That accessibility lessens customer effort, which is crucial for fostering client loyalty.
2. Contextual
If live chat is integrated into their process, the consumer has the best opportunity of describing precisely where they are stopped and what they need.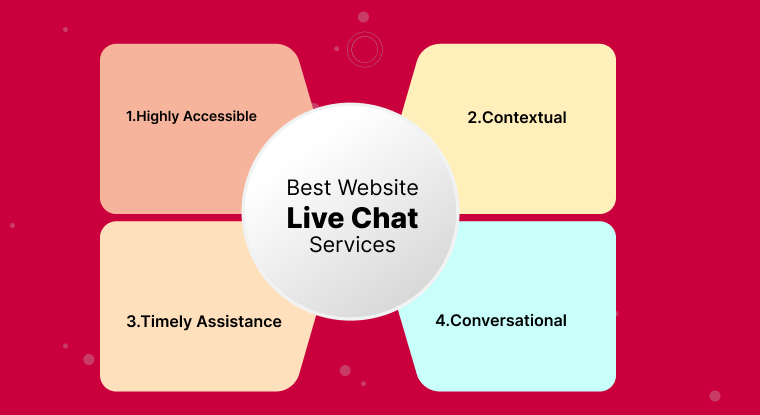 3. Timely Assistance
A customer may be happy with your service if they get a great response to their email inquiry in an hour or two, but they'll likely be much happier if they get the same response during a live chat because they can get back to work right away.
4. Conversational
Many people find it easier to express themselves in casual conversation than in formal writing. Therefore, for email support to be effective, the consumer must properly describe their problem.
List of Best Website Live Chat Software
Following list talks about the best website live software in the market. Go through them and select what suits your needs the best:
NinjaChat
With the help of the best website live chat services platform NinjaChat, you may communicate with your clients in real time. It immediately engages with visitors and provides services, including responding to inquiries, resolving issues, and generating leads. The look of your website live chat services solution may be altered, and numerous agents can be created without any HTML or programming knowledge. Key Features of NinjaChat Include; a multi-channel support, agent dashboard, UI theming, and advanced reports.
Pricing: One price for 50 apps, ₹999.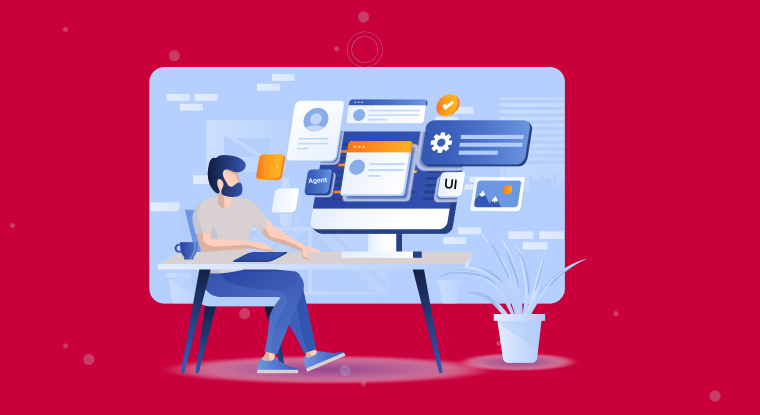 Olark
For organizations that want to utilize website live chat services frequently, Olark is a specialized chat solution with a tonne of advanced capabilities. Olark is like a customer service tool and provides chatbots, or artificial intelligence technologies that communicate with customers instead of a live person, that your team may use for issue deflection in addition to the usual live chat functionality. Additionally, you can benefit from pre-chat surveys to acquire context and in-depth analytics to evaluate your strengths and areas for improvement. Additionally, as add-on options, they include some quite sophisticated functions like co-browsing and live chat translation.
Pricing: Starting at $29/agent per month.
Pure Chat
Another specialized website live chat services tool is Pure Chat. They don't provide as many sophisticated capabilities as Olark, but they do have a strong feature set of their own and a straightforward setup procedure that helps teams get going right away. The mobile functionality of Pure Chat's products is a major focus. Their mobile apps and push notifications enable you to respond from anywhere and keep your team informed at all times.
Pricing: Starting at $39/month.
LiveChat
If you're interested in using website live chat services to offer both reactive and proactive support, LiveChat can be a suitable choice for your team. They not only provide real-time communication, but they also give you the option to deliver tailored messages to website visitors automatically.
Coupled with robust reporting, chatbot capabilities, and team management tools, LiveChat is able to handle even the most demanding teams. That said, we should note that the more advanced features and some reporting features are only offered on their higher-cost plans.
Pricing: Starting at $16/agent per month.
Chaport
Even the most demanding teams can be managed with LiveChat when it's combined with powerful reporting, chatbot capabilities, and team administration tools. However, we should be aware that only their more expensive plans include the more sophisticated capabilities, as well as some reporting features.
Pricing: Starting at $15/operator per month.
HubSpot Live Chat
HubSpot Live Chat can be a fantastic choice for individuals who want to test how well chat works for them but do not want to spend money up front. You can link to your CRM if you use HubSpot, and they provide it as a free service. Although it doesn't have the most features, it is free to use, as was already said.
Pricing: Free
Podium
Podium provides numerous services, including SMS (text) marketing, web chat, and video chat. They are essentially a full-fledged chat messaging network. They're a wonderful option for companies seeking that additional capability, but they might not be appropriate for smaller teams or those just getting started with chat.
Pricing: Starting at $189/month.
Acquire
Another specialized support tool is acquire. Although their offering is quite similar to those of the majority of the other companies on the list, they do have one significant advantage: they interact with social platforms. Acquire might be a viable contender for teams that frequently engage via chat and social media platforms like Instagram and Tik Tok. Nevertheless, it is a more expensive tool, so keep that in mind.
Pricing: Contact the Acquire team for pricing.
LiveAgent
LiveAgent is a full-service support platform with chat capabilities. It is an option on their more expensive plans, albeit it is not included in all of them.
In addition to some clever automated capabilities to boost team efficiency, they provide a straightforward setup and interaction with the rest of their platform and tools. Despite being slightly more expensive than some, it's still a good deal.
Pricing: Starting at $15/agent per month.
SnapEngage
SnapEngage can be a solid choice for you if you require multi-channel chat alternatives or are particularly interested in chatbot services. They can talk with users logged in using Facebook Messenger, WeChat, and a few other platforms, even with their most basic plan.
As mentioned above, they also offer a number of chatbot solutions, though those are only options on their higher-cost plans.
Pricing: Contact SnapEngage team for pricing.
Chatlio
You may find Chatlio to be a fantastic chat alternative if your organization utilizes Slack. You can chat with consumers right from Slack using their app. You can easily set them up and perform some minor customization to make your chat windows consistent with your brand. Although some plan limitations on the less expensive plans may be troublesome depending on the volume anticipated.
Pricing: Starting at $29/month.
Summary
Customer support needs to be provided immediately. The live chat app can be a wonderful starting point for any business wishing to establish a live chat system. Finding the best answer for your team may seem difficult, but as long as you give your full attention, you'll be heading in the right direction.
Small businesses who want to offer real-time support for the first time can benefit from suppliers with clear pricing and usage restrictions. NinjaChat, the best website live chat services platform won't charge you more for any of the advanced features.
Visit 500apps today to explore more about NinjaChat."
What Makes the Best Live Chat Software?
#1
Convert your visitors and provide real-time help from your website
#2
Chat with your customers through text, voice & video support
#3
Get 24/5 chatbot service and automate the frequently asked questions through BotUp
#4
Personalize chat theme to align with your website design
#5
Integrate NinjaChat with built-in helpdesk software, Support.cc
#6
Choose CRM software such as CRM.io to embed your chat activity
#7
Filter reports by date and agent to monitor agent performance
#8
Manage unlimited departments and get access to unlimited chats with no extra charges
#9
Unbelievable pricing - the lowest you will ever find
#10
Everything your business needs - 50 apps, 24/5 support and 99.95% uptime
Join the SaaS Revolution
All-in-One Suite of 50 apps

Unbelievable pricing - $14.99/user

24/5 Chat, Phone and Email Support