How to Boost Conversion Rates Using a Live Chat System?
The article explains what live chat system is and how to boost conversion rate in detail.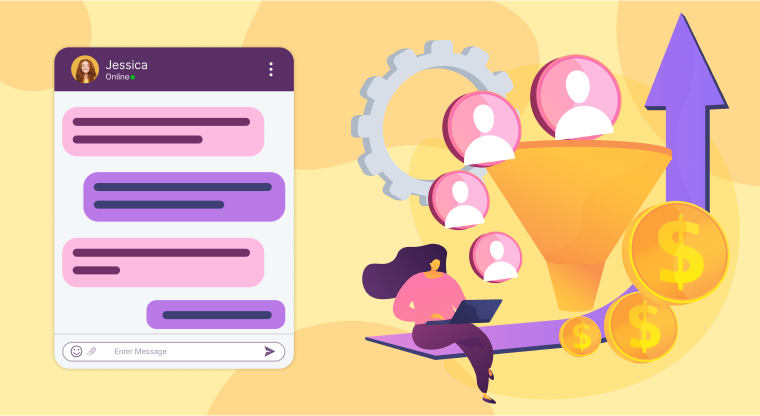 Live chat provides a tailored customer experience, improved brand engagements, and a method to identify the requirements of your consumers. Therefore, implementing a live chat solution for your company may be advantageous to your marketing, sales, and customer service departments.
What is a Live Chat System?
Live chat is a messaging tool that allows your firm to connect in real-time with website visitors. Live chat software, or customer messaging software, is the name given to the software that facilitates live chat. You can utilize live chat software to start dialogues with new website visitors, communicate with returning customers, and help current users. It is a contemporary, continuous, and contextual approach to increasing engagement, delighting consumers, and retaining them over time.
How Does it Work?
You've decided on a live chat vendor, compared prices, and purchased a membership. The first step in determining how a live chat system works is to put the software on your website.
This section looks at how a live chat system works on your website, both on the back and front end. The front end focuses on the visual parts of a website or app with which a user would interact. Meanwhile, the back end is concerned with the aspects visitors do not see, also known as the server-side.
1. The Back End
Unlike some software solutions, creating a live chat channel entails more than simply downloading the program and hitting a button. Instead, you must embed the chat channel within your website. For this, you will need to copy and paste a few lines of code into the backend of your website.
The chat option will display on your site only if you input the custom code. If you want it on every page of your website, you will need to paste the code onto every page of your site.
2. The User Interface
So, how does live chat operate on your website's front end?
The chat button appears when you paste the code into your web pages. This button appears in the bottom right-hand corner of your page. This is where people generally look for the live chat button. Your chat button is usually a box with the word "" chat,"" but you may customize it in various ways. You might, for example, use an icon or a picture.
When the visitor hits the chat button, a chat window appears. Using an inline window is the best option as it allows your visitors to explore your site while conversing without having to switch between windows.
Increase your Customer Support Experience with Live Chat Software Sign Up 14 Day Trial
How to Boost Conversion Rates Using a Live Chat System?
There are a few key points to incorporate to improve your live chat system. They are as follows:
1. Transparency
According to one survey, over 75 percent of consumers want to know if they are conversing with a human or a bot, and 48 percent find it unsettling when a bot attempts to be human. Therefore, it is good to inform your visitors that they are speaking to a chatbot.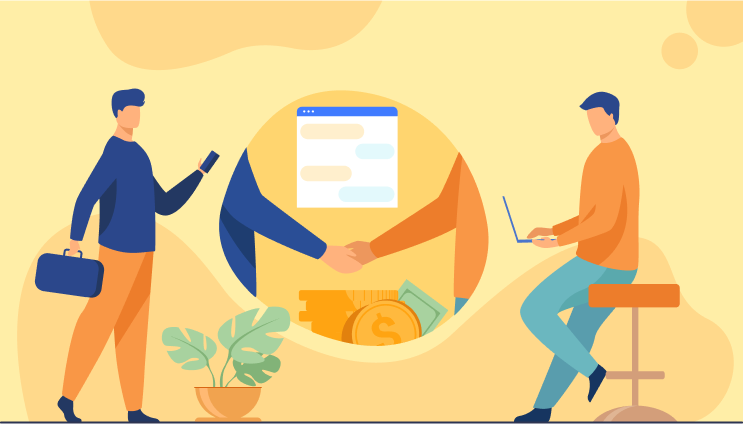 2. Including Human Touch
Most strategists are stumped on how to give a human touch to a chatbot discussion. One way is to provide it with a human name. However, simply giving a chatbot a human name isn't enough.
If your bot fails to continue the conversational back-and-forth like a human, you will lose a customer. Natural language processing (NLP) is required for your chatbot since it assists in understanding the intent of the clients, whereas scripted chatbots cannot. Furthermore, they can employ words and phrases that people use in everyday interactions.
3. Obtaining Input and Keep a Database
According to one survey, 52 percent of customers agree to submit feedback after completing a chat with a bot using web chat software.
Therefore, to enhance your chatbot, you must first understand how your users feel about it and what you can do to improve it. After resolving a client's issue, there are several ways to obtain consumer feedback. Surveys and feedback questionnaires are the most prevalent methods used by companies.
4. Proactively Give Assistance
Nothing shows a consumer that you care more than noticing that they are puzzled. No matter how great your team is, your clients will be significantly more thrilled if they never have to contact you for help.
You may allow your support staff to start a chat after analyzing which pages the user has visited and how long they have spent on each page. After the consumer has spent about 30 seconds scrolling through the page or interacting with a module on the website, you can ask the user if they have any questions. This greatly improves customer satisfaction.
5. Provide a Pre-chat Survey
People dislike repeating themselves. In fact, according to a UBM poll conducted in the United Kingdom, 75 percent of customers said that repeating themselves was the most difficult aspect of utilizing a support tool. Offering a pre-chat survey and gathering some background information on your clients as they wait to be connected to an agent can help you save time both now and in the future.
By gathering information from a client, you can provide your customer care representative with relevant information about the problem the customer is experiencing. You can save this information in your live chat system so that anybody else who enters a conversation with this client can view the history information about their inquiries.
6. Target Visitors on Certain Pages
For most businesses, having live chat app on every single page is not a scalable solution. Instead, businesses should offer live chat on the few pages where it makes sense. The sites where you incorporate live chat should be those where you get a lot of queries or where you think consumers become confused or anxious the most.
As previously noted, your sales or price pages are excellent examples of this. Other fantastic pages for adding chat include the product dashboard and the control panel for users.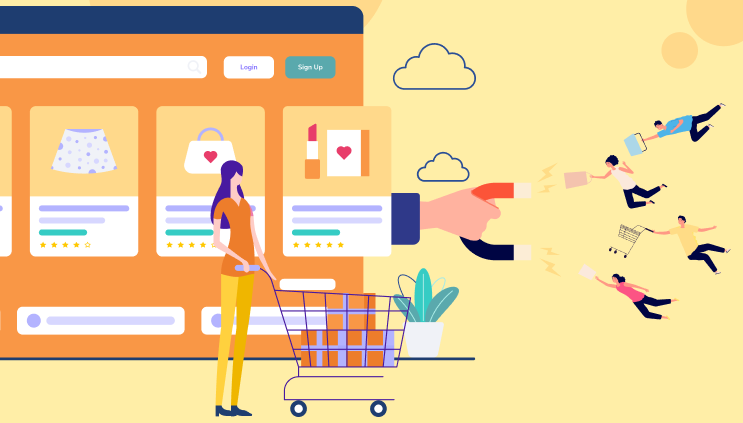 7. Conversations Should be Integrated Across Channels
People nowadays like to interact with eCommerce firms through methods that are most convenient for them. Cross-channel chats must be included for clients who choose to engage via text and web chat. As consumers tend to keep switching devices, cross-channel technologies allow agents to reply to communications in a consistent and efficient manner. A method like this produces a unified customer service experience.
Summing it Up
Customers expect to connect with companies easily using mobile and messaging. This expectation is rapidly developing as in-store traffic declines, and more and more companies shift their operations online. Furthermore, consumers prefer communication via a live chat rather than over call or email. Hence, a live chat system is essential.
NinjaChat by 500apps is the ultimate live chat system. You can do everything from sharing audio to video, all in one spot. Furthermore, you can integrate 500apps's chatbot software, BotUp to support your consumers 24 hours a day, seven days a week.
Furthermore, you can manage all customer contact channels in one location on the software to rapidly coordinate and answer their questions. You can also choose your theme, profile photo, name, and title in the chat widget to fit your company's and website's appearance. You may automatically create contacts from website visitors and obtain up-to-date contact information that syncs across various accounts and devices.
What Makes the Best Live Chat Software?
#1
Convert your visitors and provide real-time help from your website
#2
Chat with your customers through text, voice & video support
#3
Get 24/5 chatbot service and automate the frequently asked questions through BotUp
#4
Personalize chat theme to align with your website design
#5
Integrate NinjaChat with built-in helpdesk software, Support.cc
#6
Choose CRM software such as CRM.io to embed your chat activity
#7
Filter reports by date and agent to monitor agent performance
#8
Manage unlimited departments and get access to unlimited chats with no extra charges
#9
Unbelievable pricing - the lowest you will ever find
#10
Everything your business needs - 50 apps, 24/5 support and 99.95% uptime
Join the SaaS Revolution
All-in-One Suite of 50 apps

Unbelievable pricing - $14.99/user

24/5 Chat, Phone and Email Support