Live chat app is an innovative and efficient way to increase sales, close more sales and increase customer loyalty. Live chat software drives business growth by providing a way to attract visitors when they shop, increase the average order value, sell more, enhance customer experience and improve customer loyalty.
Online Chat Support can Boost Conversion Rates and make your Visitors your most Loyal Customers
Thanks to the seamless experience and speed it offers. Live chat app solves the need for instant interaction with customers by reaching out to live chat agents and support channels to initiate a real-time conversation. The use of advanced features and benefits of live chat software can help to ensure proactive support, leading to a smooth website experience for customers.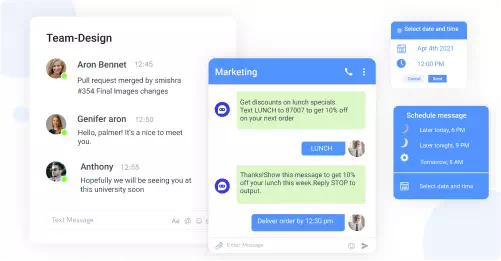 In the digital era, Live Chat is an integral part of providing a platform to communicate in real-time with customers and a great way to connect and support customers. A growing number of companies are now looking for live chat app benefits because most customers prefer to chat online or by phone in real-time with a support agent. By giving new customers easy access to your sales, customer, and support teams via chat, they can become active customers.
Allows You To Connect With Your Visitors Like Never Before Sign Up 14 Day Trial
1. Deliver Real-time Responses
Many e-commerce websites have added live-chat-support to their helpdesk software to deliver real-time responses without customers having to leave their site for a competitor. To address the problem of abandoning websites and increase the profits of your e-commerce business, you can use live chats and instant messaging tools embedded on your website to provide quick customer support.
Whether or not it uses a customer support tool as part of the sales trip, a live-chat-tool provides customers with real-time interaction. Live Chat increases agent productivity in addition to improving the support experience and helps you better know your customers and inform product decisions.
With live chats, support teams can use integrated chat and CRM studies and analytics to better understand customer preferences for greater customer loyalty. Improved customer experience and the ability to increase agent productivity can make you more successful when live chat is part of your customer support plan combined with the data you collect altogether.
2. Provide Faster Support and Increase Real-time Engagement
More and more online businesses are taking advantage of live chat to connect with their customers, provide faster support and increase real-time engagement on the site itself. With live chats, companies are available 24 hours a day to collect and respond to customer feedback to improve the product or service and prevent customer loss.
Since a support representative can make multiple calls to help different customers, Live Chat is a cost-effective customer support tool that you want to try.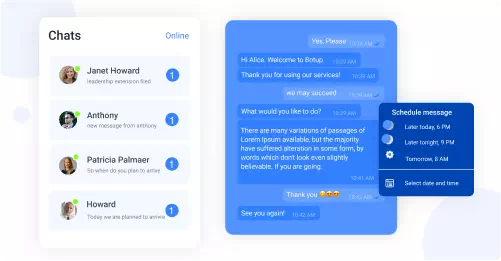 Because live chat app gives visitors instant access to your support staff and sales team, your team has much more opportunities to convert visitors to paying customers and customers. In fact, a consumer survey by Oracle found that 90% of customers said that a live chat button gives confidence that they can ask for help when they need it.
To help you better understand how much customers value live chat access, take the Digital Customer Support Benchmark Survey of over 2,000 consumers, which found that live chats have a higher level of customer satisfaction (73%), compared to 61% for email support and 44% for traditional phone support. Increasing sales by 20% and purchasing customer chat software for your sales team has proven to be a good investment with a 300% return.
3. Saves your Time
Business time is money, and time is only one aspect that covers the customer chat. The live chat benefits of call-to-chat parallelism can save businesses huge personnel costs, as fewer live chat agents can serve the same number of customers as a large team of telephone support staff.
Productivity is growing, and a variety of customer support chat features, such as canned messages, can save you a lot of time for your customer support. For example, if you run a SaaS business and something goes wrong, the customer support chat gives an immediate overview of the problem from your customers' perspective.
Live Chat is online application software that companies can use to connect with their website visitors and improve customer support. Live chat services can be used to initiate a conversation with a first-time visitor and give them real-time answers - They are a great tool to increase leads, generate more revenue, and improve the overall customer experience.
In short, if your business can benefit from an efficient, intelligent, and responsive customer support channel, consider live chat for your website.
Look for customer support software that can manage all your chat, email, and multi-channel support in one tool, so agents can concentrate and get the job done.
Conclusion
As expectations shift toward customer support, live chat has moved into the spotlight and has become a powerful tool for businesses to connect with customers and provide support in real-time.
NinjaChat is a low-cost live chat software that you can use to provide a quicker support experience, improve response times, engage website visitors, and support customers on websites, social media, and mobile apps.
When used by experienced support staff, remember that live chats require a different mix of skills than call center work: precise keyboard skills, a clear and concise writing style, on-screen equivalents, clear diction, and a friendly voice."