What are the Benefits of Live Chat?
NinjaChat is a best live chat tool that you can use to improve customer engagement, reduce response times, engage website visitors in real-time, and give customer support over the web, and mobile devices.
NinjaChat is a low-cost live chat software that you can use to offer a faster support experience, improve response time, engage website visitors, and support customers through the website, social media, and mobile apps. Start with your 14-day free trial and enjoy unlimited agents with our price plan. Free Live Chat Software Unlimited users chat in real-time with your website visitors to turn more visitors into customers and improve customer satisfaction.
Benefits of Live Chat
Taking advantage of the advanced features and benefits of the live chat software can help to ensure proactive support leading to a seamless website experience for customers. Today, take advantage of the powerful benefits of Live Chat Software to meet or exceed customer expectations in terms of service and sales.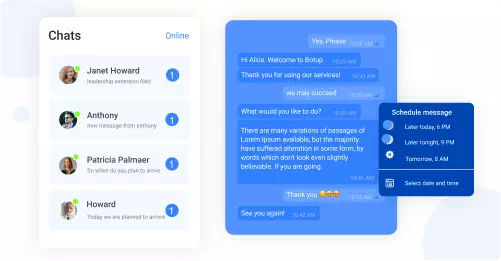 1. Real-time Support
A growing number of companies are now trying to take advantage of live chat system, as most customers prefer to chat in real-time with a support agent rather than receive support by email or phone. The implementation of live chats gives online companies the ability to provide real-time service and proactive support to their customers.
2. Cost-effective Customer Service
Live business chats can help you optimize the number of customers your agents can support by giving customers an immediate response. Live Chat Benefits, also known as Chat Parallelism, can save businesses enormous amounts of personnel costs because it allows a few live chat agents to service the same number of customers as a large team of telephone support staff.
Instead of allowing one support representative to make multiple calls to help different customers, live chat can be a cost-effective customer service tool you want to try.
Live chats allow companies to provide on-demand, real-time customer service, increasing the likelihood that they will get what they want and that no business will be disappointed. With live chats, companies can be reached around the clock to collect and respond to customer feedback, improve products and services, and prevent customer migration.
In live chat companies, customer service representatives can view the advanced reports, product details, and customer profile in a single chat interface.
3. Resolve Customer Queries Quickly
In contrast, employees can only speak to one customer at a time by phone or e-mail, causing delays. Businesses should consider the added value of live chat on websites to ensure that any product or service-related communication issues and customer doubts are resolved quickly.
Engage website visitors and app users directly in the chat when problems occur, rather than waiting for them to email or call.
If for example you run a SaaS business and something goes wrong with customer service, the chat will give you an instant view of the problem from their perspective. Since the chat is integrated into your CRM, you can retrieve customer account information and provide a personalized and informed service right from the start.
4. Reduce Response Times
More and more online businesses are taking advantage of live chat to connect with their customers, offering faster support and more real-time engagement on the site itself. Live chat software is used by companies from large banks to small e-commerce and mail order businesses to better serve their customers and reduce response times. In the race for a change, companies want to make their customer communications paperless.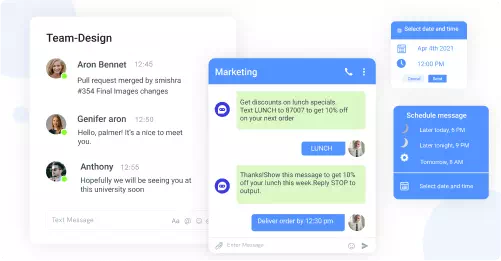 For many customers, the online chat software is more convenient and less stressful than making a phone call to a stranger. Many e-commerce websites add live chat support to their helpdesk software to deliver real-time responses without customers having to leave their website for a competitor.
Unlike calls, e-mails, or a personal visit to a company, an interested customer or prospective customer can enter a question or request to contact a company representative online. During the chat, customers do not have to search for contact details or e-mail addresses.
With live chat support, agents can handle more than one customer request at a time. You can have a personal conversation with the customer and give him answers to frequently asked questions.
Allows You To Connect With Your Visitors Like Never Before Sign Up 14 Day Trial
Customers do not want to spend their time on the phone with your company but want answers immediately. They prefer chat help to delay reactions and make quick decisions.
5. Turn Visitors into Customers
Live chat gives visitors instant access to your support staff and sales team, giving your team many more ways to turn visitors into paying customers and customers. Chat solutions include Connect to Chat, where customers can interact with the company's sales team within seconds using the Connect to Call feature, as well as real-time notifications via email, SMS, and phone.
To help you better understand how much customers value access to live chats, look at the Digital Customer Service Benchmark Survey of over 2,000 consumers, which found that live chats have the highest customer satisfaction (73%), compared to 61% for email support and 44% for traditional telephone support.
Conclusion
According to a recent Freshworks study, 44% of customer service managers say that chat messages are crucial to maintaining service levels during a crisis. Improving website experience benefits both customers and businesses: customers who use live chat on a website are three times more likely to make a purchase, which has a positive effect on your profits. In short, if your business would benefit from an efficient, intelligent, and responsive customer service channel, consider live chat on your website.