What are the Features of Live Chat?
Live chat service features that can help increase your conversion rate, provide faster customer support and improve customer experience, update the content to ensure that.
As part of 500apps solutions, the Live Customer Chat software includes analytics and tracking of website visitors. Live Chat is an intuitive, full-featured customer support software that saves time by automating repetitive tasks, centralizing your conversations, and solving problems through effective collaboration.
Communication with your customers is facilitated by Live Chat, which tracks your visitors, digital footprint, identifies them as new and returning visitors, and helps you design the right proactive chat.
Now that you know the websites with live-chat-service features that can help increase your conversion rate, provide faster customer support and improve customer experience, update the content to ensure that. These are few features are mentioned below.
Multi-channel support tools are also integrated into your chat so you can share help articles with customers. Even if chat is not available, make sure customers find their way to your support documentation quickly and easily.
1. Direct Interactions
If a customer or visitor has any questions, complaints or other assistance from you, they can expect to reach your brand via live chat. Customers can chat directly with you on your website instead of having to call or send an email.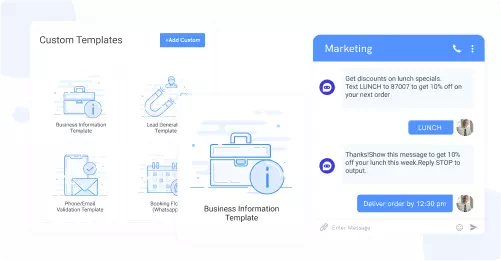 Live chat is a great way to connect with potential or new customers and give them the confidence they need to use your product or spend money on your website. Live Chat improves agent productivity in addition to improving the support experience and helps you to better know your customers and better inform your product decision-making.
live chat and the ability to answer customer queries can drive up the conversion rates of your websites.
2. Bot Feasibility
Once the ChatBox is installed, your customers can access the live-chat widget on your website and agents can access the dashboard. Live Chat helps customers with small waiting times connect with support agents with no waiting times compared to reactive channels such as email or phone support. Live chat resolves phone calls and emails and prevents your customer support from being inundated with overwhelming tickets.
The best way to guide them to the right product and complete the sale is chat. With over half of the US online shoppers canceling their purchases due to slow response times, more than half are a problem.
Improving the website experience helps both customers and businesses, as customers who use live chat on a website are three times more likely to make a purchase, which has a positive impact on your profits. Chat tools can help attract more customers, improve the response time of website visitors and generate more revenue.
Telephone, e-mail and web support are among the most important when it comes to building trust. Waiting on the phone or slow e-mail response times can send shoppers to other retailers.
Allows You To Connect With Your Visitors Like Never Before Sign Up 14 Day Trial
A large number of online companies do not use live customer chat software. Companies such as big banks, small e-commerce companies, and mail order companies can use live chat software to better serve their customers and improve response times.
3. Real-time Chats
In fact, our own live chat survey of more than 1,000 sites found that only 9% of sites use live chat to give their customers real-time support. Another study by Oracle Global Consumer Trends found that 90% of the customers say the live chat button gives them confidence that they can get help when they need it.
Shoppers who chat about purchases tend to spend more money and are more likely to become loyal customers. The quality of the live chat customer service software is that agents can read the text and provide customer reviews and other details to which they have access.
Word replies and translation tools reduce frustration when buyers don't understand the agent making a frequent complaint about phone support.
4. Chat Transcripts
When a lead on the customer service website starts a conversation, the Live Chat Service displays a form that Customer Service can use to fill in the required information. You can create a pre-chat form to request details like name, email address and other information you require from your customer. The customer can then enter useful information to inform the chat session.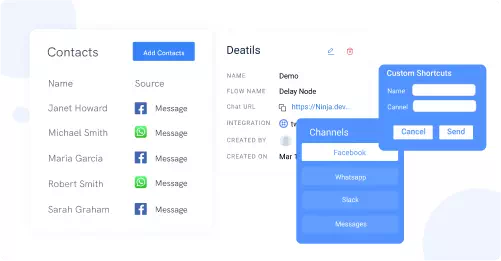 For example, the name of the customer, the desired department, his ticket order number, etc. You can also ask your chat user to send you a screenshot of a specific problem they need to solve.
This will make life easier for your employees and optimize the customer experience. Look for customer service software that manages your chat, email, and other support channels in one tool, so agents can concentrate in one place and get their work done.
NinjaChat offers advanced live chat features to help you improve your customer service. Improving the customer experience and the ability to increase agent productivity will lead you to greater success when live chat is part of your customer service plan, combined with the data you all collect.
Conclusion
Customer feedback is crucial to improving the service quality. Chat Metrics You can measure the performance of live-chat-support using key metrics such as FRT (Fastest Resolution Time), ART (Average Resolution Time) and FCR (First Contact Resolution) to achieve a high level of customer satisfaction.
Reviews can help you improve your live chat customer service by collecting real-time feedback to see if customers are satisfied with the live chat experience.